Volunteer Appreciation Week
April 18-24 is Volunteer Appreciation Week! From dog, cat, and rabbit socialization, to laundry, to marketing and philanthropy, events, wildlife, and so much more, our volunteers impact every aspect of our organization. Their compassion is inspiring, and we couldn't do what we do without them.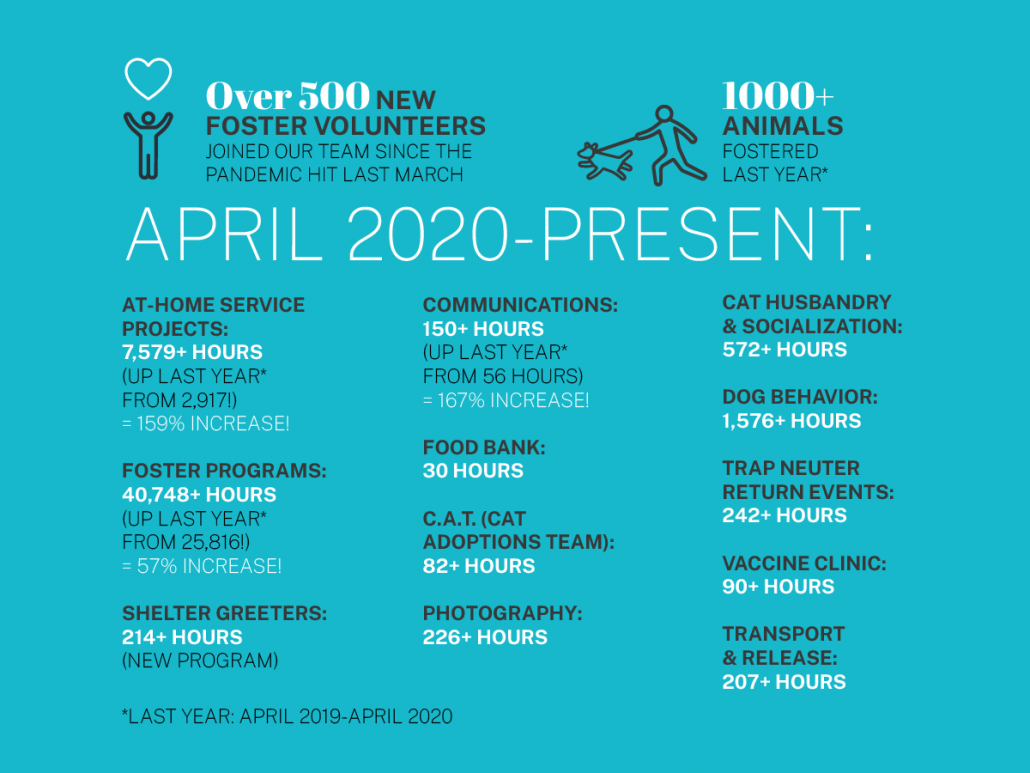 Even through this tough past year, volunteers contributed over 52,333 hours! Volunteers showed us that even through a worldwide pandemic, they were resilient and willing to help in any way that they could.
Here are a few of our volunteers and how they help the animals:
Maura and Devin – Foster Care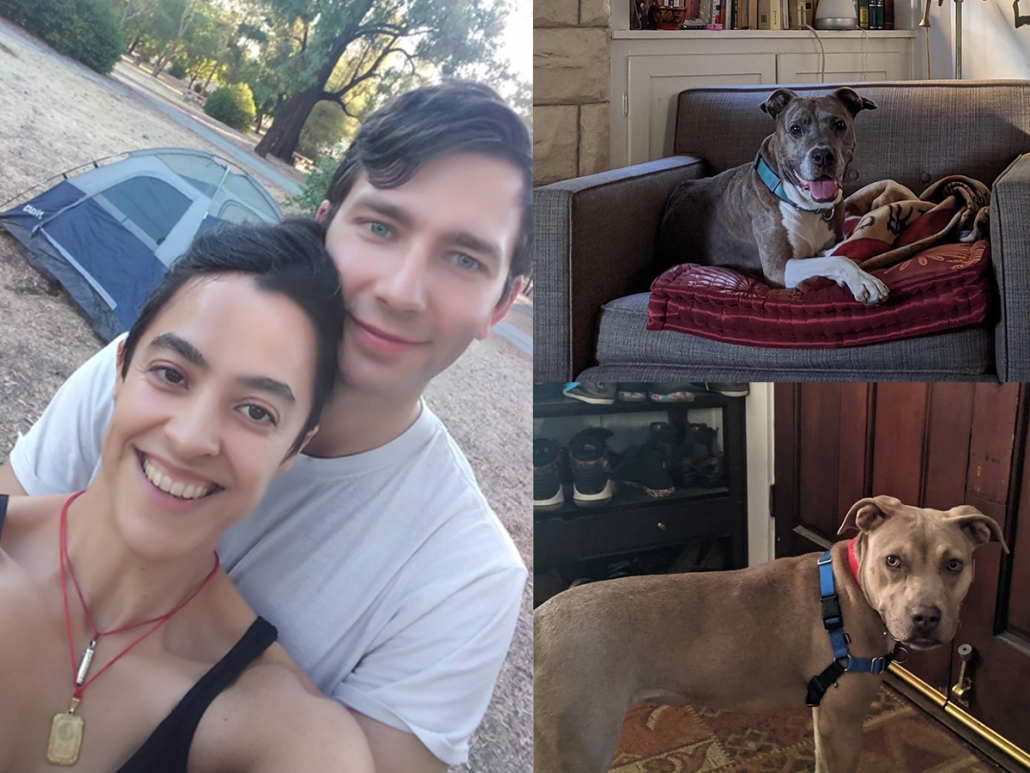 Maura and Devin have been fostering for Pasadena Humane since March of last year. They've given a wonderful temporary home to seven dogs so far, including one of our longest-term residents, Lucy. Lucy had some issues with anxiety, but Maura and Devin gave her a quiet and calm environment to thrive in until she found her forever home. They're currently fostering Nala, a young dog who just needs a little help with her socialization, confidence, and training. We're so grateful to these foster parents for opening their home to dogs who need a little extra love!
"It's been such a pleasure to get to know the personality of each of the dogs we've welcomed into our home. And even in cases where our fosters have behavioral issues, taking care of them teaches us something about ourselves and about taking care of others."
Allegra – Foster Care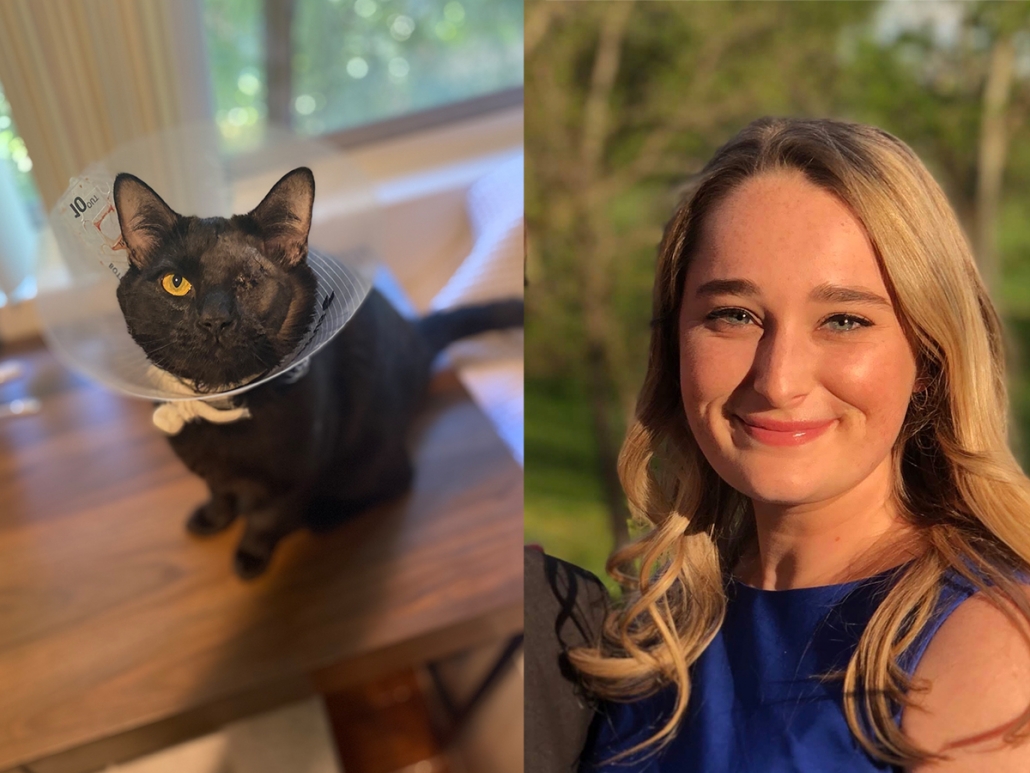 Allegra started out volunteering in cat socialization at Pasadena Humane in 2019, and when kitten season created a demand for foster homes, she took in her first pair of kittens, Buzz and Luna. Since then, she's fostered many other kittens, and she's also taken in adult cats with medical or behavioral needs. Most recently, she opened her home to Zuko, a cat who was hissy and withdrawn at the shelter. Not even 24 hours after arriving in Allegra's home, Zuko was a different cat completely, rolling onto his back for belly rubs.
"I love being able to help change an animal's life. I'm so happy to see each animal that leaves my care feeling healthier, having been loved and made a complete priority."
Dan – Marketing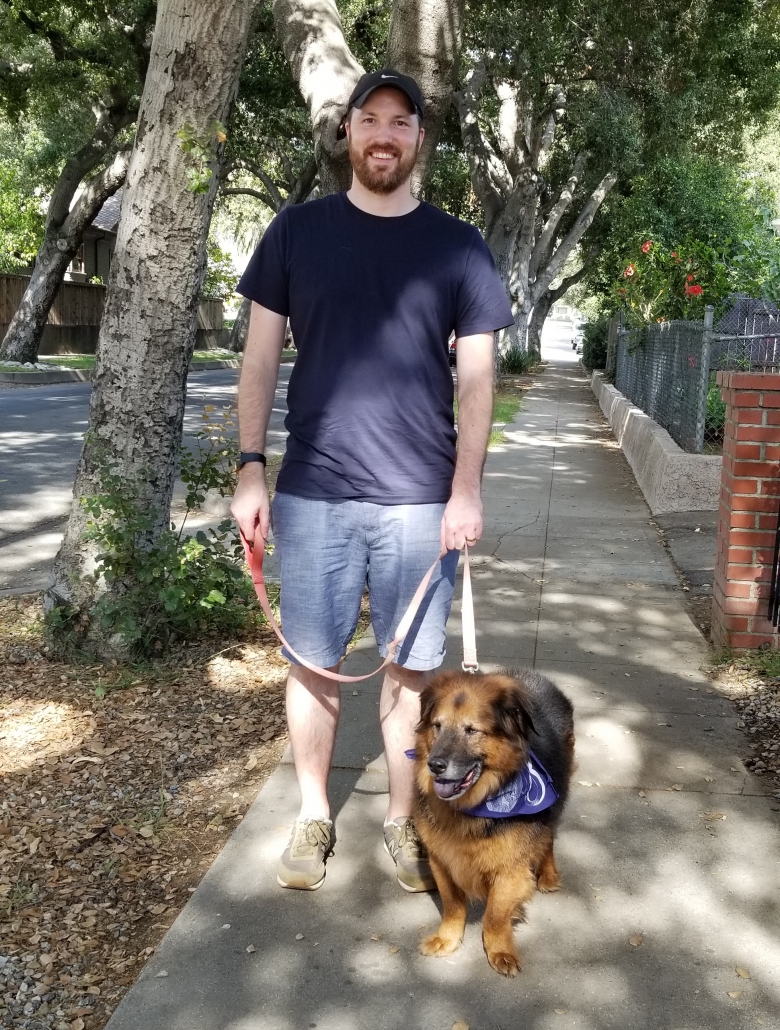 Dan has been a volunteer in the marketing department since November 2019, helping update and maintain our website. Our website is hugely important – it's where people go to check out the latest shelter news, find wildlife resources, donate to the animals… and fall in love with their future pet. Dan is a pleasure to work with, and we are so glad to have his expertise!
"Dogs and cats have always enriched my life, and I like playing a small part in helping them find their forever homes. Pasadena Humane has a very organized volunteer program that made it easy to get involved. It's a great feeling seeing people walk out of the shelter with a new family member or reunited with their lost pets."
Ruth – Dog Socialization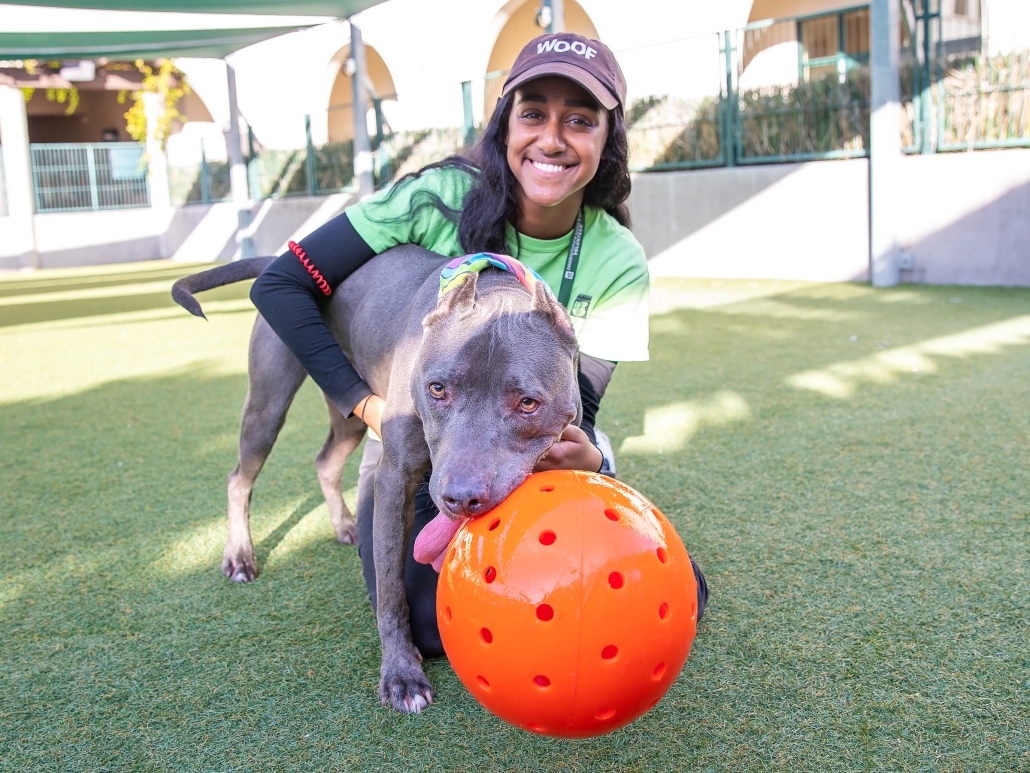 Ruth began volunteering at Pasadena Humane as a teenager and has been helping the animals for six years now. She provides enrichment, love, and care to so many dogs, and we are inspired by her dedication.
"The best part about volunteering is definitely having the opportunity to meet so many different wonderful dogs. All the dogs that come through Pasadena Humane's doors are so special to me and I'm so grateful to have the opportunity to know them."
Anne-Laure – Cat Socialization, Animal Care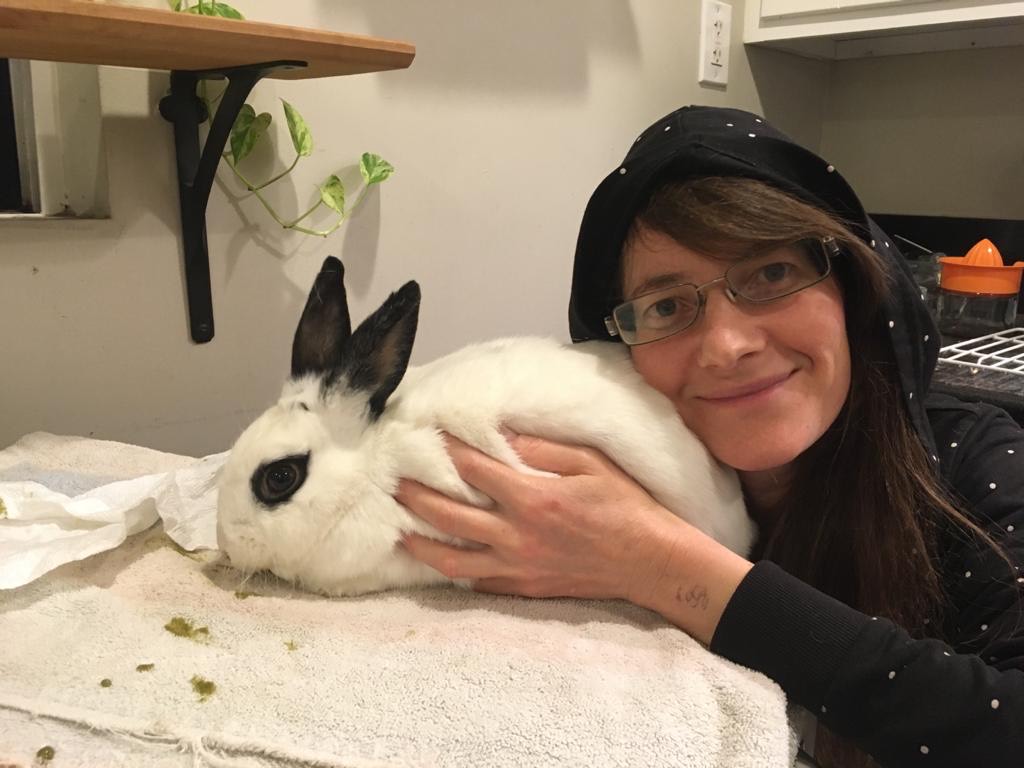 Anne-Laure has been volunteering with us in cat socialization and animal care since 2019. Volunteering at Pasadena Humane has even inspired her to work with animals in her future career!
"I mainly volunteer with cats at Pasadena Humane, I love taking care of them, interacting with them and I am always impressed by their resilience despite what they have been through. I think we are helping each other mutually; I care for them and they teach me how to become a better person."
Maggie – SNiP Clinic, TNRM Events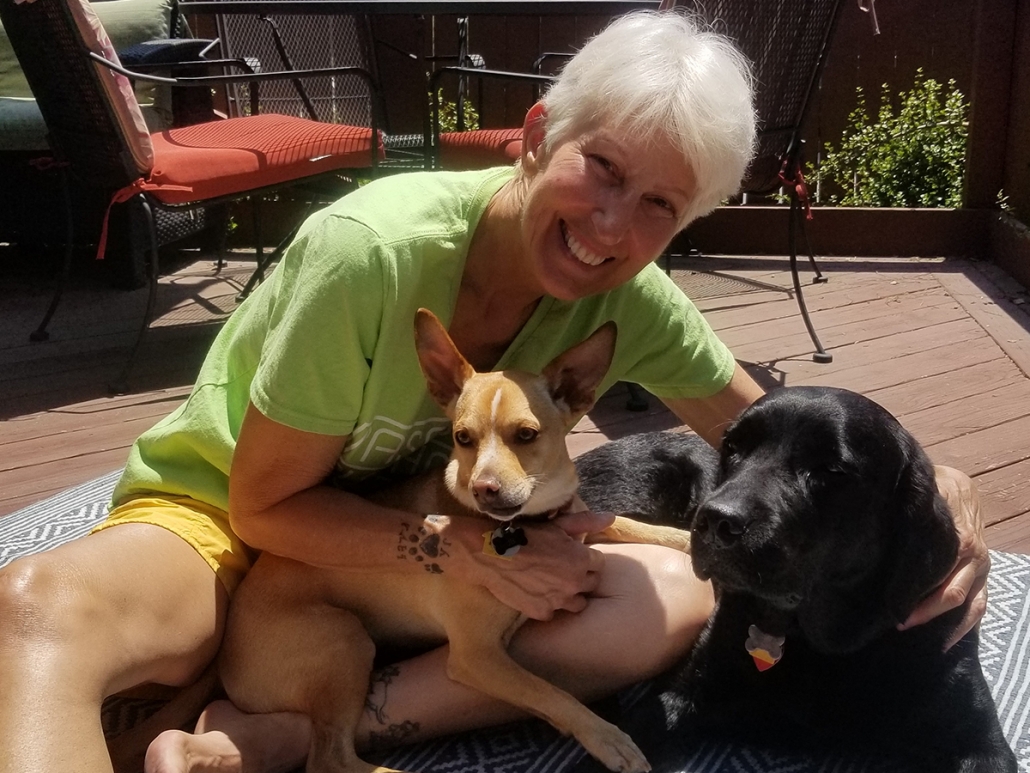 Maggie has been volunteering with us since 1997! Most recently, she's lent her time to our SNiP clinic and helped out with our TNRM events.
"The range of opportunities that Pasadena Humane offers to volunteers is marvelous. I've learned so much by working there. Plus the compassion & care demonstrated by staff and volunteers alike makes me proud to be a part of the organization."
Ricardo – C.A.T Program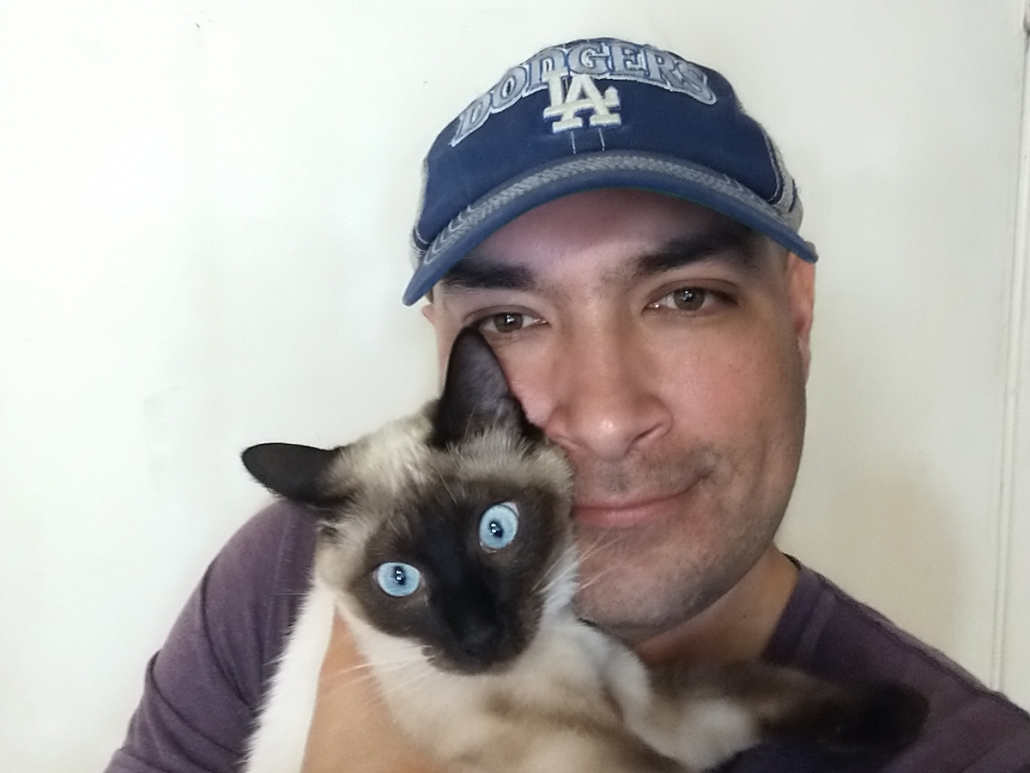 Ricardo has been a volunteer with Pasadena Humane for over four years! He lends his time to our C.A.T. (Cat Adoption Team) program.
"I was drawn to Pasadena Humane because they open their doors to ALL animals, which aligns with my core beliefs that squirrels matter as well.
What I love most about volunteering is that, when you read the cat's profile and it strikes you to the core that the animal had a rocky journey to get to Pasadena Humane. When you see that cat or kitten be adopted to a forever home, your soul lights up, so to speak, in that moment and the heart beats faster with joy. Pure gratification!"
Visit pasadenahumane.org/volunteer to stay up-to-date on all our future volunteer opportunities.
Visit pasadenahumane.org/foster to learn how to become a foster volunteer.
https://pasadenahumane.org/wp-content/uploads/2021/04/A467188-BLUE-JAY-and-Ruth-HI-RES.jpg
1800
2400
Pasadena Humane
https://pasadenahumane.org/wp-content/uploads/2023/07/PHLOGO202-Charcoal.png
Pasadena Humane
2021-04-20 15:55:36
2021-04-20 15:57:13
Volunteer Appreciation Week