Service Projects (All Ages)
Due to COVID-19 restrictions we are currently only accepting cat trap covers and cat bed drop-offs. Please hold onto other service projects until we are able to accept them. Thank you!
Completed service projects may be dropped off Monday through Saturday from 10 a.m. to 6 p.m. or Sunday from 11 a.m. to 6 p.m. Please leave your completed projects in one of the donation bins located in the breezeway outside of the Shelter Shop or near the North elevator in the underground garage off Raymond Ave. Please take a photo and email it along with a list of the projects you made to volunteer@pasadenahumane.org, and we will be happy to send you a service hour acknowledgment form. This opportunity is for all ages and can be done as many times as you'd like!
Cat Trap Covers
Cat Trap Covers
The Trap-Neuter-Return-Monitor (TNRM) program aims at helping as many community cats as possible. Cat trap covers offer a sense of safety, protection, and calm to the cats awaiting their surgery, during post-surgery recovery, and being returned to their homes.
If you'd like to make cat trap covers, please click the link below. Each cat trap cover will earn you 15 service hours. We will also accept un-sewn beach towels for 4 hours per towel.
Cat Beds
Cat Beds

Each cat bed will earn you 2 service hours.
YOU NEED:
2 pieces lightweight fleece material (18" x 24")
Scissors
DIRECTIONS:
Cut two pieces of fleece (18" x 24")
Lay 1 piece of fabric on a flat surface and cut 4" fringe along all 4 sides.
Repeat this for the second piece of fabric.
Layer the first piece of fabric on top of the second piece of fabric on top of a flat surface.
Using a piece of fringe from the top layer and a piece of fringe from the bottom layer, tie a knot.
Repeat knotting around all four sides.
The finished product should measure 11" x 17"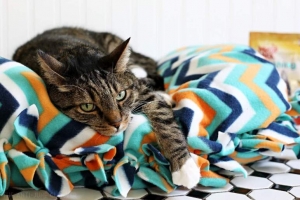 Oat Dog Biscuits
Recipe for Oat Dog Biscuits
One batch earns four volunteer service hours.
You need:
5 cups rolled oats (not quick)
1 cup chicken or beef broth/stock (or 1 tsp bouillon granules in 1 cup hot water)
2 eggs
1-2 tsp salt (optional)
Directions:
Preheat oven to 350°
Dissolve bouillon in hot water
Add remaining ingredients
Knead dough until it forms a ball (approximately 3 minutes)
Roll dough until ½ inch thick
Cut into slices or bone shapes
Place dough pieces on lightly greased cookie sheet
Bake for 30 minutes
Apple Cinnamon Dog Treats
Apple cinnamon dog treats
One batch earns four volunteer service hours.
You need:
1 small Granny Smith apple, peeled and grated (about ⅓ cup grated apple)
3 tbsp. unsweetened natural applesauce
¼ cup honey
½ cup water
1 large egg
3 cups whole wheat flour
1 tsp. ground cinnamon
Directions
Preheat oven to 350° F
Mix apple, applesauce, honey, water, and egg in a bowl. Stir to combine thoroughly.
Sift flour & cinnamon together.
Add the flour & cinnamon mixture to the wet mixture in 2 or 3 additions, stirring well after each addition.
Knead the dough by hand until all of the flour is absorbed, and the dough is smooth & flexible.
Generously flour a board or countertop, and roll the dough to about ¼ inch thick.
Cut the dough into about 1″ pieces and arrange on an ungreased baking sheet.
Bake about 20 minutes, until firm to the touch. Allow to cool completely.
Store in a ziplock bag or other airtight container.
Pumpkin Carrot Dog Treats
Pumpkin Carrot Dog Treats
One batch earns four volunteer service hours.
You need:
3/4 cup canned pumpkin (please use the kind that ONLY has pumpkin in it)
1 egg, slightly beaten
1/4 cup shredded carrots
1 cup whole wheat flour
Directions
Preheat oven to 350 degrees.
Stir pumpkin, egg, carrots and flour in a large bowl until moistened.
Roll the batter into small balls and place on a baking sheet.
Bake for 30 – 35 minutes.
Cat Toys
Cat Toys
Five cat toys earn one volunteer service hour.
You need:
Infant Socks (Infant socks only)
Stuffing or fiberfill
Dry Catnip
Directions:
Take an infant sock and fill from toe to heel with stuffing (stuffed portion of sock should NOT be longer than 2")
Add a pinch of dry catnip
Pinch the sock around the heel and ankle, then stretch the ankle and cuff and tie the sock closed in a knot (do NOT use ribbon or string to tie sock closed)
Done! This is an easy cat toy to make, and cats love it.
Finished toy should NOT be longer than 3 ½"
Rabbit Rattle Toy
Rabbit Rattle Toy
Two rabbit rattles earn one volunteer service hour.
You need:
Paper Bags
Scissors
Toilet paper tubes
A wood stick (store bought willow or apple sticks only)
Twine or sisal (rabbit safe rope)
Rabbits treats, timothy hay
Directions:
Cut off the bottom part of a paper bag (shown in picture)
Make a longitudinal cut to the bag on one side only.
Lay out the paper, and put the toilet paper roll on it.
Fill the toilet paper roll with treats, hay, and the willow or apple stick. (CAUTION: only use twigs or sticks that you have purchased from a pet store, and are meant for rabbits. Certain woods are toxic to rabbits.) The stick should be big enough to stick out at both ends of the toilet paper roll.
Roll the toilet paper roll up in the paper bag.
Cut off the excess paper, twist the ends and give to the rabbit for enjoyment.
Rabbit Roll Toy
Rabbit Roll Toy
Two rabbit roll toys earn one volunteer service hour.

YOU NEED:
Piece of cardboard (recommended: 6″ x 12″)
Pencil
Round template or compass to draw circles (recommended: 3″ diameter)
Scissors
DIRECTIONS:
Use the pencil to trace three circles of the same size on a piece of cardboard, and cut them out.
Circle 1: On one piece cut four slits about 1/3 the length of the diameter that are of equal size and length. They should also be as evenly spaced as possible.
Circle 2 & 3: On the other two pieces cut a slit half the diameter of the circle, and cut out a "T" shape.
Take Circle 1 and fold it in half, which will reveal one slot in the middle.
Take the folded Circle 1 and slide it into the T slot of Circle 2.
Once the two circles are joined, unfold the flaps of the Circle 1 and fold them up.
Now insert Circle 3 slot into Circle 3 slot.
Raise flaps of Circle 1 to give the toy a 3D ball shape.
Hamster Hidey Hut
Hamster Hidy Hut
One hamster hidey hut earns one volunteer service hour.
You need:
Small balloon
Cup
Roll of toilet paper
Water
Direction:
Blow up the balloon and place it on the open end of the cup.
Wet strips of the toilet paper in water and plaster it around the balloon leaving an opening.
For the next layer, stick the dry toilet paper to the balloon and sprinkle water over the toilet paper as needed to ensure all the layers of toilet paper stick.
Keep layering the toilet paper onto the balloon until you have used about half a roll of toilet paper.
Once the layering is done, it is time to dry! You can either stick the hidey hut outside in the sun, somewhere dry inside, or you can use a hairdryer to speed up the drying process. After a few hours, the hidey hut should be dry enough to remove the balloon!
To remove the balloon, pop it and then remove the popped balloon from the inside of the hidey hut.
Set the hidey hut back in its drying place to finish drying. It can take up to 2 days for the toy to completely dry.
Once your hidey hut is completely dry, it is ready to be given to your hamster!
Remember always to use clean, unscented toilet paper for small animal toys and never allow a small animal to interact with an inflated or deflated balloon.

DIY Snuffle Mat
DIY Snuffle Mat
One Snuffle Mat earns four volunteer service hours.
You need:
Rubber Sink Mat with holes (12 x 15 inches is recommended)
1 yard of fleece (thinner fleece is better)
Scissors
Direction:
Cut fleece into strips. The strips should be about 1.5 inches wide, and anywhere from 4 to 8 inches long. Variety in length makes for a more interactive mat.
Starting on the edge of the first row of the mat, take a strip of fleece and push one end through the first hole of the first row and the other through the second. Flip the mat over and tie the strip once (no need to double knot it).
Take a second strip and push one end through the second hole alongside the strip already there, then push the other end through the third hole. Again, turn over the mat and knot the strip. Continue until you finish one length of the rubber mat. Repeat on the second row of holes.
When you have two rows done, take a strip of fleece and push one end through the first hole in the first row, then push the other end through the first hole in the second row. Turn the mat over and single-knot the fleece. This strip is at right angles to the first one. Continue between the first and second rows until completed.
Repeat this process on subsequent rows until all holes in the mat have been filled in.
When done, check the bottom of the mat to make sure there are no empty holes or missed cross strips. If you find some, fill them in and then turn the mat over, loose strip side up, and fluff the strips.
Sign up for our email newsletter
Animal Shelter Hours
11 a.m. to 6 p.m. 7 Days a week
*Animal Shelter services are available by appointment only.
Registered 501(c)(3). 
EIN: 95-1643344
Shelter Shop
Monday to Saturday: 10 a.m. to 6 p.m.
Sunday: 11 a.m. to 6 p.m.
*Shelter Shop is open for walk-in customers.