Pasadena Humane Society & SPCA encourages everyone to keep their pets in mind when preparing for the possibility of a personal health emergency that may require you to be hospitalized. Having a plan in place will give you peace of mind, and on the off-chance that you need to use it, will make sure your pets are safe.
Identify a pet caretaker
If you become ill or hospitalized, it's important to have someone available who can care for your pet in your absence. This can be a friend, family member, or neighbor, but above all make sure you've discussed your plans with this person and let them know about any special needs your pet may have, such as medication or a feeding schedule. Providing your pet caretaker with a spare set of house keys ensures that they will be able to access your pet in an unexpected emergency.
Assemble a go bag
Have crates or carriers, leashes, wet and dry food (at least five days worth), dishes, a few toys, and your pet's medicine packed up in an easy-to-carry bag. If someone else needs to take care of your pet, all their supplies will be easy to find. Add a supply of water, and this bag is also useful in the event of a natural disaster, evacuation, or anything that requires you leave quickly with your pet.
Keep vaccines up-to-date
If your pet needs to be boarded, they must be up-to-date on their vaccines. Check with your local veterinary office to see if they're offering vaccine services at this time. Always keep a copy of your pet's medical records in their go bag or somewhere easy to find so you can provide this information when asked.
Tag and microchip
Although a collar with a visible ID tag and a microchip are always encouraged, it's especially important when someone else is caring for your pet. If your pet is temporarily at another person's home in an unfamiliar area, a tag and microchip can make it more much likely that they'll be returned to you. If you've moved or changed your phone number, always check that your pet's ID tag and microchip have been updated with the correct information.
Include your pet in end-of-life planning
While it may be difficult to think about, including your pet in your will can make sure they're taken care of after you're gone. You can name a caretaker and provide a monetary stipend for your pet's care.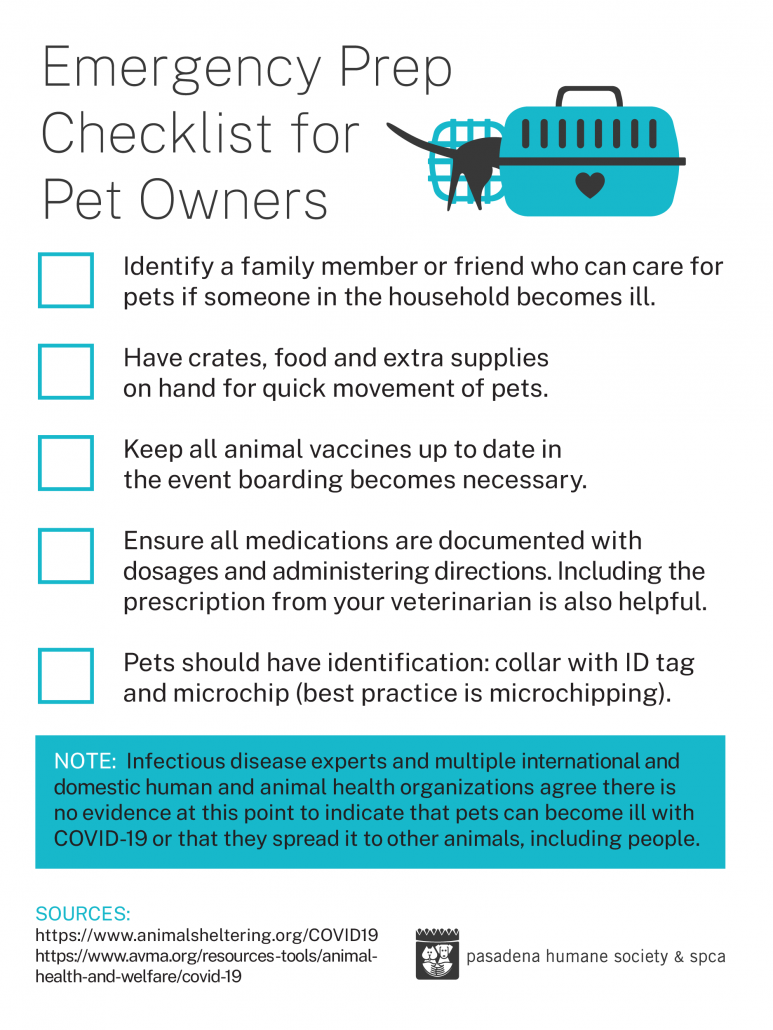 https://pasadenahumane.org/wp-content/uploads/2020/03/PetEmergencyPrepChecklist.Vertical-01.png
2500
1875
Pasadena Humane
https://pasadenahumane.org/wp-content/uploads/2023/07/PHLOGO202-Charcoal.png
Pasadena Humane
2020-03-20 09:38:25
2020-09-08 10:32:00
Pet Emergency Prep