Pasadena Humane Prepares for Avian Influenza
Shelter implements measures to keep wild and domestic birds safe
PASADENA, Calif. (October 20, 2022) – –  Pasadena Humane is doubling down on its efforts to keep wild and domestic birds safe after cases of Highly Pathogenic Avian Influenza (HPAI) were confirmed in Los Angeles County earlier this week. While the shelter has yet to see any cases of HPAI in the birds in their care or in their service area, the confirmation that HPAI has arrived in Los Angeles and Orange counties is worrying. 
Anticipating the arrival of this deadly avian flu in our area, Pasadena Humane changed the way that birds are received and handled in August. While highly contagious among some bird species, the virus is rarely transmitted to humans.  
"We adjusted our intake policies to protect the birds in our care and prevent the disease from spreading in the shelter," explains Pasadena Humane's Chief Veterinarian Dr. Maria Pyrdek. "We evaluate each bird at arrival for signs of illness and house  birds by species indoors separately to reduce the risk of infection. We also coordinate with both California Department of Food and Agriculture and California Department of Fish and Wildlife as well as Pasadena Public Health Department and Los Angeles Public Health department to monitor both wild and domestic populations of birds for signs of illness and testing sick or affected birds".   
Officials encourage the public to report all mortality events, especially those involving 5 or more wild birds or any poultry species to the appropriate agency.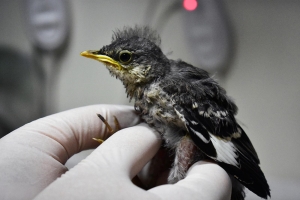 Pasadena Humane offers the following tips to keep birds safe:  
Feeding and providing water to wild birds is discouraged especially if backyard poultry or other captive birds are present on the premises (e.g., chickens, turkeys, peafowl, ducks, geese, pigeons, doves). Providing food and water to wild birds encourages birds of different species to come into closer and more prolonged contact with one another than is typical when they feed on natural food items. Increased concentration of wild birds at feeders and bird baths may lead to local contamination of the environment with fecal material, which may aid in disease transmission. 

 

Wild birds should be excluded from entering enclosures for domestic and pet birds, and food and water should not be shared between wild birds and domestic or pet birds. 

 

If recreating outdoors in areas with large concentrations of waterfowl and other waterbirds, please take care to wash clothing and disinfect footwear and equipment before traveling to other areas or interacting with domestic or pet birds. Footwear and equipment may be washed with soap and water, then disinfected in household bleach diluted 1:10 with water for at least 10 minutes. 

 
WHERE CAN YOU REPORT SICK AND DEAD BIRDS?  
Wild birds – Please report sightings of sick or dead wild birds through the California Department of Fish and Wildlife (CDFW) form or by contacting the CDFW's Wildlife Health Laboratory at (916) 358-2790 or through the website at:  https://wildlife.ca.gov/Conservation/Laboratories/Wildlife-Health/Monitoring/Mortality-Report 
Do not handle sick or dead wildlife. If it is necessary to do so, it's recommended to wear impermeable gloves, use an inverted plastic bag, or a shovel or other implement. Afterwards wash hands thoroughly with soap and water and change clothes before having contact with domestic or pet birds.  
For stray or feral domestic or semi-domestic birds (e.g., peafowl, chickens, racing pigeons), please contact local animal control or animal services for assistance. Sick and dead poultry, domestic ducks, and pet birds may be reported to the California Department of Food and Agriculture's hotline at 1-866-922-2473.   
For more information about Highly Pathogenic Avian Influenza, visit pasadenahumane.org/hpai. 
https://pasadenahumane.org/wp-content/uploads/2022/08/13_BabyBird_PasadenaHumane.jpg
1067
1600
Pasadena Humane
https://pasadenahumane.org/wp-content/uploads/2020/05/PasadenaHumaneLogo.2020.Charcoal.HorizontalStack-01-300x89.png
Pasadena Humane
2022-10-20 14:07:24
2022-10-20 14:12:09
Pasadena Humane Prepares for Avian Influenza