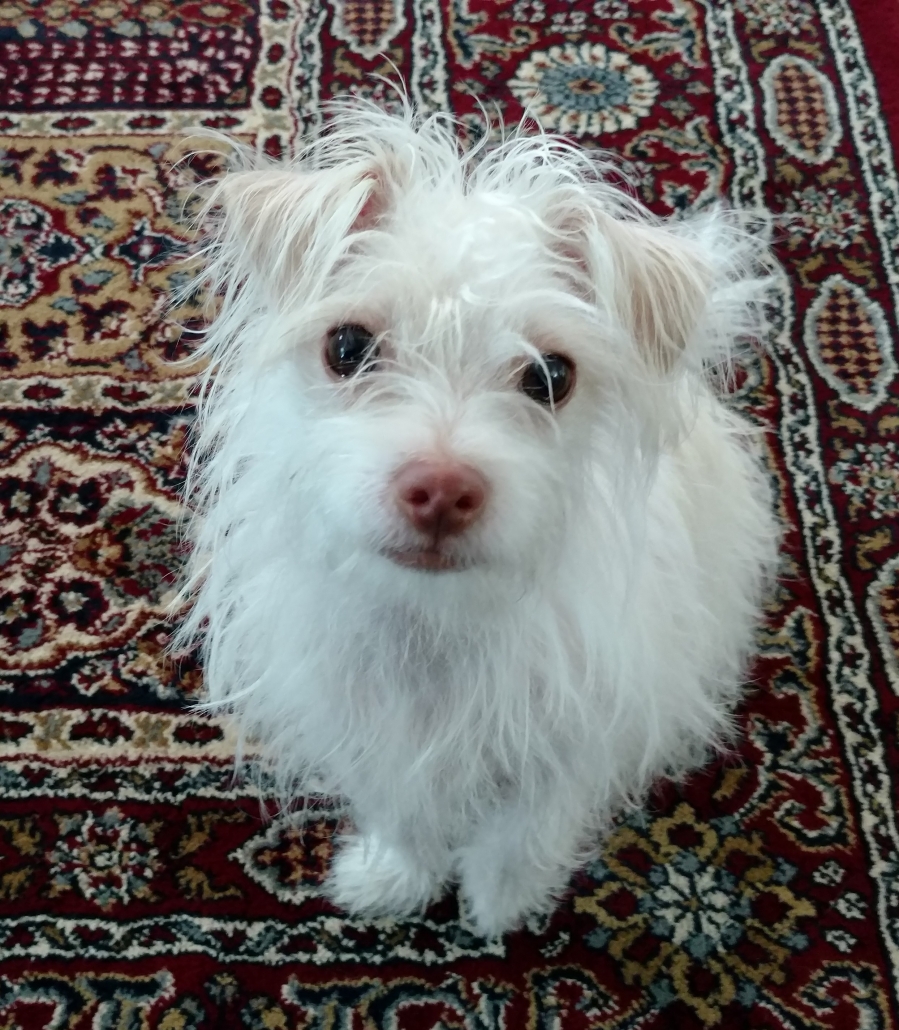 I was not going to adopt another dog!  I was just trying to help someone else!  Both my friend and I were heartbroken by the need to put our beloved, elderly dogs to sleep after they became ill.  She wanted to adopt again.   I had firmly decided that life with my large tabby cat, Loki (adopted from Pasadena Humane as a tiny kitten), would be all I required.  One Sunday in 2018, I saw a listing for a 4-month-old puppy that I thought might be a good match for her.  So, off I went to meet with a counselor, on her behalf, and see the little one – 4 pounds of frightened, shivering, fur-deficient puppy.  He was an owner turn-in because he was "too much work."  I called my friend and she and her family met me back at Pasadena Humane later.  The counselor, Connie, brought the little fellow in to meet us and as my friend was petting him, she said gently that she would prefer a larger dog.  That was fortunate because he had just crawled back in my lap.  He had adopted me.
The next day, I took him for his complimentary Vet check.  I had not decided on a name – something Scandinavian to match Loki.  The waiting room was full of large dogs, sitting majestically beside their owners. And there I was with the little guy trembling in my lap.  The vet staff asked his name and I told them probably Sven or Olaf.  When it was our turn, the man called out SVEN OLAF in a booming voice.  Everyone looked towards the large dogs and chuckled to see me carry my little one to the room. But he had perked up at the announcement so, Sven Olaf was to be his name.
He may be small, but he is mighty, tipping the scales at 10 pounds with lots of fur that always appears to need conditioner.  What a joy.  Sven quickly learned to adapt to homelife, ready at a moment's notice for play or snuggles or security, if needed.   My life is now well regulated as he and Loki keep me on schedule for Zoom meetings that they find excellent for inducing a good nap.  Most of all they make sure I know that I am loved.  Another Pasadena Humane Happy Adoption Story!
P.S. My friend found her special pal at Pasadena Humane about a month later.  A larger dog, devoted to her family, just what she wanted!
https://pasadenahumane.org/wp-content/uploads/2020/12/sven-olaf-scaled.jpg
2560
2236
Pasadena Humane
https://pasadenahumane.org/wp-content/uploads/2020/05/PasadenaHumaneLogo.2020.Charcoal.HorizontalStack-01-300x89.png
Pasadena Humane
2020-12-18 14:01:20
2020-12-21 14:38:39
Meet Sven Olaf