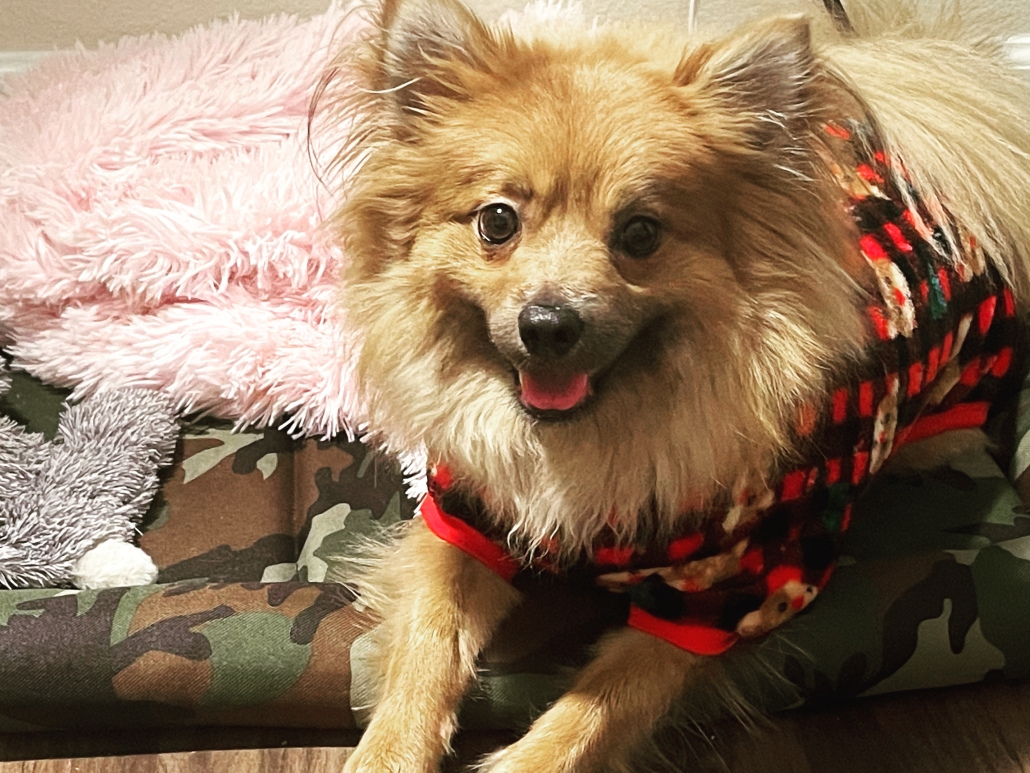 As we prepare to celebrate Barkley's fourth birthday—his one year adoption anniversary!—I wanted to share an update on how he has spent his first year in his forever home.
One evening last May, I saw Barkley's photo and description posted to the adoptable dogs page on the PHS website. His name was a nod to basketball; he might like to play with a ball if he weren't so shy, the description stated. Not much to go on, but Barkley's photo showed a winning smile (and I have a very soft spot for Pomeranians) so we pushed forward with the adoption.
Not long after arriving home from PHS, I thought Barkley had adjusted well to his new life and his new role as guard dog and best friend. Generally speaking, our home is his castle and he lives, as he should, like a king. I had learned unfortunate details from his past though (passing from household to household that couldn't provide for him, time in the county shelter, even bouts of homelessness, all prior to PHS). Barkley had been described as shy and withdrawn during his time at Humane, but as he grew increasingly comfortable in his new home, his anxiety (which he wields as aggressive postures) around other dogs, new people, new environments seemed to grow as well. Upon witnessing this, we promptly put in a call to the PHS Behavioral unit and not long after, enrolled in Reactive Rovers. Barkley graduated the class having made great progress, and he even continued in his studies, taking additional courses in general obedience and separation anxiety coping skills. We have also had amazing support from his VCA veterinarian along the way, who keeps tabs on Barkley's behavior and has him on a special medication to help with his anxiety. He is still reactive. He still has anxiety. He still shows aggression when agitated by strangers. Most importantly though, he has made remarkable progress in the last year, and we continue committing to his training daily to keep up this progress.
On a lighter note, Barkley had many firsts this year:
his first Independence Day; remarkably, he is not afraid of fireworks!
his first haircut; we now go in for regular grooming to keep his coat clean and soft, though he is back to wearing his hair long again
his first Halloween; he went as Guy Fieri, Mayor of Flavortown!
his first attempt at boarding; he was dismissed in under 24 hours for aggression towards daycare staff. Coincidentally, this resulted in our first Thanksgiving together, as I had to fly back to Pasadena the night prior to retrieve him
his first Christmas and his first pawprint ornament on the tree; he was a very spoiled little boy indeed!
his first diet (following a weight management consult with our amazing vet); he loves food now, having gone from a weak 14 lbs to a rotund 23 lbs (he has about 5 lbs to lose)
his first genetic testing; Barkley took the Embark test! He is ~85% Pomeranian, with the remaining ~15% being unresolved. We also located his father and many half siblings on Embark
Barkley continues to work on his obedience and anxiety coping skills, and he is also slowly making new human friends. We cannot wait for what Barkley's upcoming year will bring!
https://pasadenahumane.org/wp-content/uploads/2022/05/Barkley-photo-scaled.jpeg
1921
2560
Pasadena Humane
https://pasadenahumane.org/wp-content/uploads/2020/05/PasadenaHumaneLogo.2020.Charcoal.HorizontalStack-01-300x89.png
Pasadena Humane
2022-05-16 15:47:07
2022-05-18 17:35:24
Meet Barkley