It's March Madness at Pasadena Humane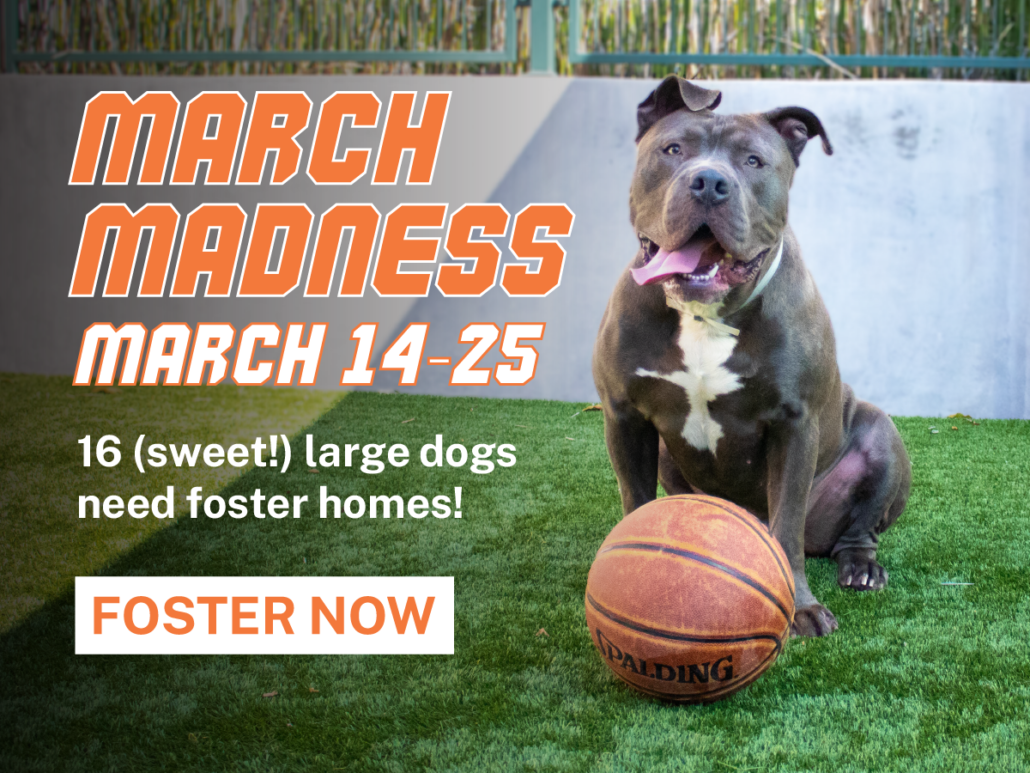 PASADENA, Calif. (March 15, 2023) – Pasadena Humane is asking for help to find foster homes for 16 (sweet!) large dogs during the NCAA March Madness basketball tournament. The "Sweet 16" would greatly benefit from a temporary break from the shelter while they wait for their forever homes.  
Large dogs make up a significant percentage of the shelter's dog population. Large dogs are often overlooked in favor of their smaller counterparts, but they have so much love to give. Large dogs make great companions and wonderful house guests in foster homes. Foster parents do not need a lot of space, just a willingness to help an animal in need.  
"It's a slam dunk for the animals!," said Dia DuVernet, President and CEO of Pasadena Humane. "By fostering a dog, you are helping a shelter pet in need while getting a buddy to watch the tournament by your side."  
Pasadena Humane officials say that the short respite from the shelter does wonders for the dogs' spirits. "It is stressful for a dog to spend time in a shelter," says Foster Manager Nadia Cubias. "A week or two away from that environment is so refreshing for these dogs, gives us much more information about them and ultimately makes them more adoptable."  
Pasadena Humane provides all the supplies and support throughout a foster pet's stay, and while a two-week minimum is preferred, fostering can be as short or as long as your schedule allows.   
You can make one of these dogs' Cinderella story come true by signing up to foster at pasadenahumane.org/foster.
https://pasadenahumane.org/wp-content/uploads/2023/03/23_3_March-Madness_Graphics_Square_1080x1080.png
1080
1080
Pasadena Humane
https://pasadenahumane.org/wp-content/uploads/2020/05/PasadenaHumaneLogo.2020.Charcoal.HorizontalStack-01-300x89.png
Pasadena Humane
2023-03-15 13:47:48
2023-03-15 13:47:48
It's March Madness at Pasadena Humane