Celebrate "Big Dog Summer" by Adopting a Large Dog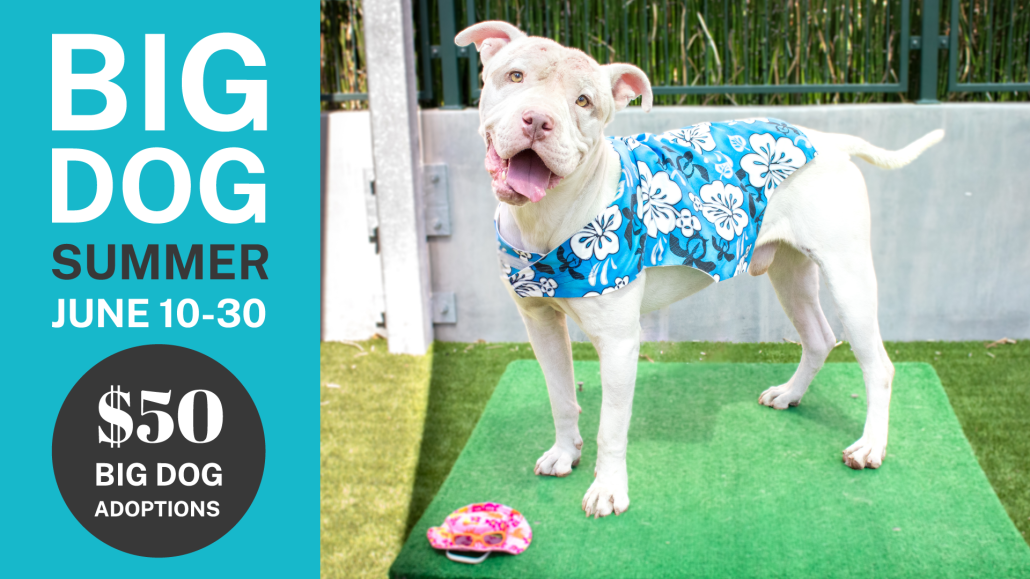 PASADENA, Calif. (June 2, 2022) – – Pasadena Humane is launching a "Big Dog Summer" adoption promotion to encourage community members to adopt one of the many wonderful large dogs currently waiting for a new home at the shelter. The adoption promotion will run from June 10 to June 30 and will feature $50 adoptions for all dogs 40lbs and over. 
 While big dogs may be larger in size, many can make excellent pets for apartment dwellers or those living in small spaces. With training and regular exercise, big dogs can be calm and quiet in the home. More active large dogs may be wonderful jogging or hiking buddies. Plus, you'll feel an extra sense of security at home and while out on walks with a big dog.  
 "Big dogs have so much love to give but are often overlooked in shelters," said Dia DuVernet, President & CEO of Pasadena Humane. "By adopting a large dog during our Big Dog Summer promotion, you will be helping a pet that is truly in need. Shelters throughout our area are full of big dogs. If you are considering adopting, now is a great time" 
 If adoption is not in the cards, there are other ways to celebrate Big Dog Summer. Consider fostering a large dog in need at Pasadena Humane or your local shelter. If you are already a big dog owner, enjoy summertime activities with your pup like early morning hikes, trips to the dog beach, or cooling off with a pupsicle (a frozen dog treat).  
 Adoptions are by appointment only. Big Dog Summer adoption appointments will be released starting Wednesday, June 8, at 10 a.m. Adoption appointments for all animals are released every Wednesday and Sunday at 10 a.m.  
 All adopted dogs will be spayed/neutered, up to date on vaccines and microchipped. Adopters receive a free health exam at a participating veterinarian and a discount at the Pasadena Humane Shelter Shop. Adopters living in the Pasadena Humane licensing service area can get a dog license at the time of adoption. 
 Potential adopters can view available dogs and make an adoption appointment at pasadenahumane.org/adopt.  
https://pasadenahumane.org/wp-content/uploads/2022/06/22_06_Big-Dog-Summer_Graphics_Square-1080.png
1080
1080
Pasadena Humane
https://pasadenahumane.org/wp-content/uploads/2020/05/PasadenaHumaneLogo.2020.Charcoal.HorizontalStack-01-300x89.png
Pasadena Humane
2022-06-08 13:53:30
2022-08-16 17:05:34
Celebrate "Big Dog Summer" by Adopting a Large Dog