52 CATS RESCUED FROM HOARDING SITUATION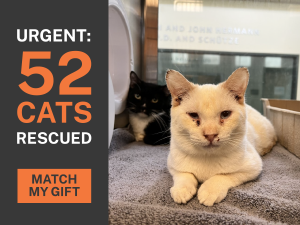 Pasadena Humane Seeks Homes for the Newly Dubbed "Christmas Cats" 
PASADENA, Calif. (December 17, 2021) – -Pasadena Humane rescued more than 50 cats and kittens from a local home. The cats were found living in unsanitary conditions inside the home and in a crawl space underneath the house.  
During the two-day operation, animal control officers and Pasadena Humane staff worked to safely remove the cats from the house. Due to the conditions in the home, staff wore personal protective equipment and respirators. The cats were transported back to the shelter, where they were set up in clean kennels with food, water, and fresh bedding.  
The majority of the cats are suffering from symptoms of upper respiratory and ear infections, but are in overall stable condition. The cats are now under the supervision of a veterinarian and are being provided with needed medical care.   
"I am relieved that the cats are now safe and receiving the care they need," said Dia DuVernet, President & CEO of Pasadena Humane. "The cats arrived just in time for us to find each one a home for the holidays." 
Most of the cats are now available for adoption and have been given holiday-themed names–like Jolly, Merry and Jingle–to help find them homes. The newly dubbed "Christmas Cats" will be spayed/neutered, vaccinated and microchipped before going to their new homes.  
"We are counting on the support of the community to help us find homes for the cats," said DuVernet. "If you are able to open your heart and home this holiday season, please consider adopting one of the Christmas Cats." 
Pasadena Humane is hosting a Winter Wonderland cat adoption event on Saturday, December 18, from 10 a.m. to 1 p.m. Discounted adoptions will be available for all cats 6 months and older. No appointment is necessary during the adoption event.  
Pasadena Humane has also set up an online donation page for anyone that can help. Moved to action by the story of the Christmas Cats, generous donor Nancy Plamann has stepped forward to match gifts—dollar for dollar—up to $15,000, through Sunday, December 19. Donations can be made at give.pasadenahumane.org/cats.  
To learn more about the cats, visit pasadenahumane.org.  
About Pasadena Humane 
Pasadena Humane is a donor-supported, non-profit organization that provides animal care and services for homeless and owned animals in the Greater Los Angeles Area. The organization is dedicated to promoting humane treatment and compassionate care for all animals. The animals in its care come from 11 animal control service areas, as well as partner shelters across the Los Angeles-area and beyond. Pasadena Humane also offers lifesaving programs and services to the community that support the human-animal bond and keeps pets healthy and safe.  
### 
https://pasadenahumane.org/wp-content/uploads/2021/12/IMG_0117_1-1-scaled.jpg
1920
2560
Pasadena Humane
https://pasadenahumane.org/wp-content/uploads/2023/07/PHLOGO202-Charcoal.png
Pasadena Humane
2021-12-16 14:16:18
2021-12-16 14:18:23
52 CATS RESCUED FROM HOARDING SITUATION