5 Tips to Help Keep Your Pets Safe This Halloween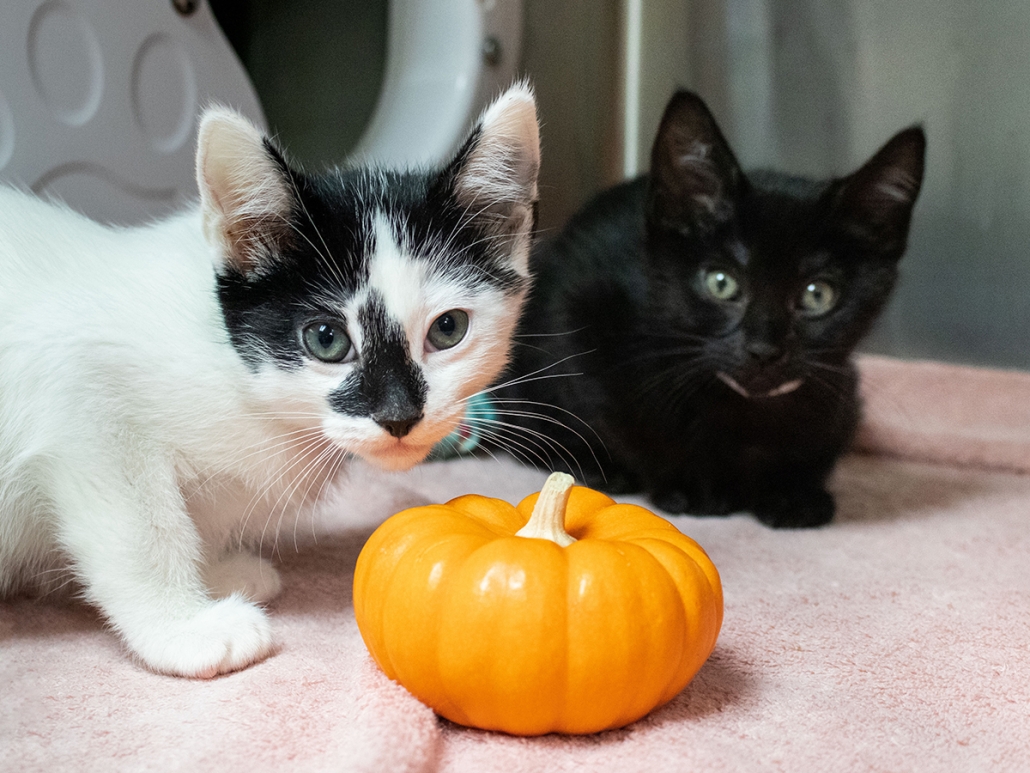 Halloween should be spooky, but it should also be safe! Keep these tips in mind to make sure your celebration is safe and stress-free for your furry friends.
Dressing Up
It can be really cute to see an animal in a Halloween costume, but not all animals love to be in them. Only dress your pet up if they enjoy it, and never force your pet to wear something they don't like. Make sure their costume doesn't impair their ability to breathe, move or see, and if you notice any signs of stress, remove the costume immediately.
Chocolate and Candy
Chocolate is toxic to dogs and cats, and other types of candy can cause stomach upset. Always keep your Halloween candy stash somewhere your pet can't reach – it only takes a second for a curious cat or a daring dog to grab a piece. If you believe your pet may have eaten chocolate, call your veterinarian, an emergency vet, or the Animal Poison Control Hotline.
Decorations
Candles can be a staple of spooky décor, but they can also be a hazard to animals, who can knock them over or singe their fur. Use flameless candles in your jack-o-lanterns for a safer alternative.
Trick-or-Treaters
Whether you plan to hand out candy in your yard or welcome trick-or-treaters at your door*, it's best to keep your pets safely inside and away from the front of the house. Some animals may find groups of strangers in costumes to be stressful rather than enjoyable. Keeping your pets away from the front door, perhaps in an enclosed room of your house, will also ensure that they don't slip outside.
ID Tag & Microchip
As always, make sure your pet is microchipped and is wearing an ID tag with your current contact information in case they do get out. If you do lose your pet, post about and search for them on social media, Nextdoor and sites like Pawboost and Petco Love Lost. For more tips on finding lost pets and to view all stray animals brought to our shelter, visit pasadenahumane.org/lost.
Have a fun, festive, and safe Halloween – from all of us at Pasadena Humane!
*Please be sure to follow CDC guidelines and local ordinances when handing out Halloween candy.
https://pasadenahumane.org/wp-content/uploads/2021/10/kittens_with_pumpkins.jpg
900
1200
Pasadena Humane
https://pasadenahumane.org/wp-content/uploads/2023/07/PHLOGO202-Charcoal.png
Pasadena Humane
2021-10-20 08:57:50
2021-10-20 08:57:50
5 Tips to Help Keep Your Pets Safe This Halloween