Pasadena Humane and Hill's Pet Nutrition to Celebrate Special Relationship Between Pets and People with "Feed The Love" Float in 2024 Rose Parade®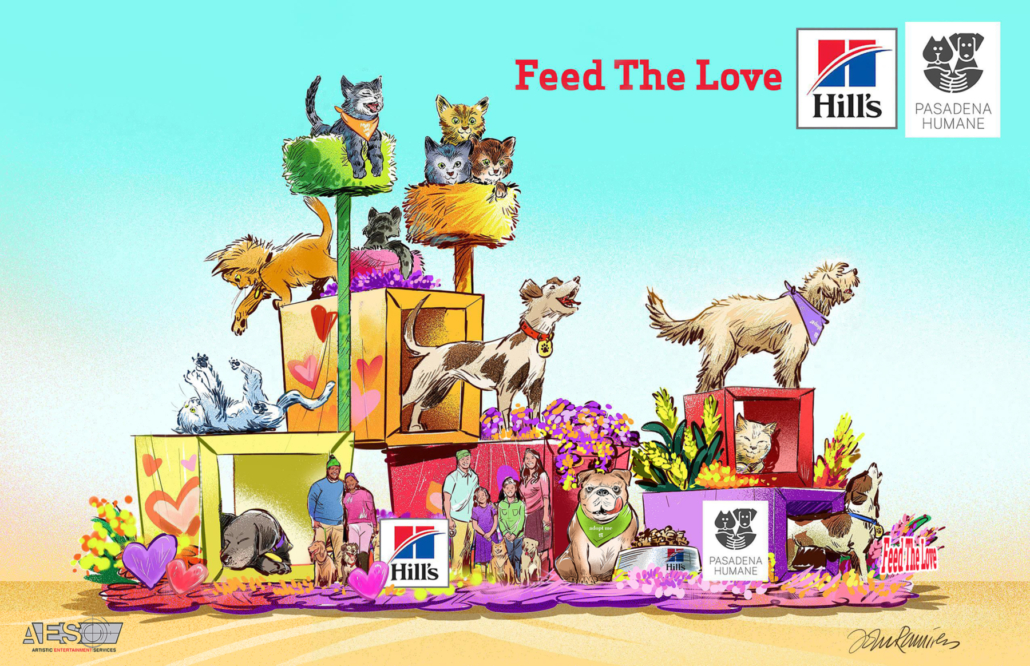 PASADENA, Calif. and TOPEKA, Kan. (October 12, 2023) – Pasadena Humane and Hill's Pet Nutrition are joining forces to raise awareness about the importance of ending pet homelessness with a float in the 2024 Rose Parade® on New Year's Day in Pasadena.  
"Feed the Love" is a 55-ft float that celebrates the relationship between pets and their people, while encouraging shelter pet adoption and recognizing the role that science-led nutrition plays in helping them be healthy, happy and more adoptable. 
 "Feed the Love" will be built by Artistic Entertainment Services and will showcase the joys of welcoming a pet into your home. From kittens playing underneath a cat tree to a hungry dog eagerly awaiting a bowl of nutritious food while sporting an "Adopt Me" bandana, the float will show what it's like to give shelter pets a warm welcome home.    
"Millions of deserving pets are waiting on a second chance, so we are delighted to collaborate with our long-time partner Pasadena Humane to raise awareness about the importance of adoption and the beautiful relationships it can foster between people and pets," said Nicki Baty, US President of Hill's Pet Nutrition. "Over the last 21 years, the Hill's Food, Shelter & Love program has partnered with hundreds of shelters to help more than 13 million pets find new homes. We are always looking for new ways to support shelter pets, so we look forward to using the 2024 Rose Parade® as a platform to encourage adoption and help more pets find new, loving homes." 
Riders and outwalkers from both organizations will reflect a shared goal of promoting the love between people and pets. Pasadena Humane President & CEO Dia DuVernet and Hill's Pet Nutrition's Food, Shelter & Love program lead Joann Fuller will be joined by employees, volunteers, community members and a handful of dogs to encourage adoption, fostering, volunteering and donating to help animals in need.   
"Pasadena Humane is honored to have a float in the 135th Rose Parade, our first in 20 years. Along with our generous float sponsor, Hill's Pet Nutrition, we hope to inspire viewers across the country to adopt their next best friend," said Dia DuVernet, President & CEO of Pasadena Humane. "Our 2024 float will mark the continuation of more than a century of our organization's involvement with the Rose Parade, both as a participant and in our behind-the-scenes role of ensuring the safety of all animals in the parade."
Among those featured on the float will be Drs. Vernard Hodges and Terrence Ferguson, stars of Nat Geo Wild's Critter Fixers: Country Vets and Hill's Pet Nutrition ambassadors, alongside shelter veterinary professionals from Pasadena Humane to recognize the important role veterinary professionals and animal care workers play in helping pets live their best possible life.
"We are honored to participate in this year's Rose Parade on the Hill's Pet Nutrition and Pasadena Humane's float. It's a beautiful opportunity to highlight the special relationship between people and their pets and the important role animal care professionals provide – ranging from shelters to the veterinary industry, said Dr. Hodges. 
Volunteer decorating shifts at the Float Barn at Rosemont Pavilion will open in the coming months. Follow Pasadena Humane (@pasadenahumane) on social media to learn more and get involved.
To learn more about Hill's Pet Nutrition's commitment to shelter pets, visit hillspet.com/shelter. 
About the Pasadena Tournament of Roses® Association 
The Tournament of Roses is a volunteer organization that hosts America's New Year Celebration® with the Rose Parade® presented by Honda, the Rose Bowl Game® and a variety of accompanying events. The Association's 935 volunteer Members will drive the success of the 135th Rose Parade themed "Celebrating a World of Music," on Monday, January 1, 2024, followed by the CFP Semifinal at the Rose Bowl Game presented by Prudential. For more information, visit www.tournamentofroses.com. Like us on Facebook and follow us on Instagram and YouTube. 
https://pasadenahumane.org/wp-content/uploads/2023/10/Feed-the-Love-4x3-1-scaled.jpg
1921
2560
Pasadena Humane
https://pasadenahumane.org/wp-content/uploads/2023/07/PHLOGO202-Charcoal.png
Pasadena Humane
2023-10-13 10:56:24
2023-10-23 11:23:12
Pasadena Humane and Hill's Pet Nutrition to Celebrate Special Relationship Between Pets and People with "Feed The Love" Float in 2024 Rose Parade®