Rehabilitated Wildlife- Letting Them Go
Pasadena Humane is one of only two animal shelters in Southern California licensed to rehabilitate wildlife. Any resident of our 11 services areas can get assistance and resources from the Wildlife Department- and that help is just a text away!
During operational hours, texts to the wildlife helpline 626.344.1129 are answered within minutes. People who find our injured or orphaned wild neighbors are given advice on how they can help the animal they have found. Sometimes that is as easy as keeping an eye on a fledgling bird until its mom comes to usher it back to the nest. Other times, it involves measuring a young opossum with a dollar bill to estimate its age. Other times, it means bringing the animal to the Sandra J. Goodspeed Wildlife Center at the shelter.
Orphaned wildlife can spend several weeks at the center until they are old enough or healthy enough to release back to the wild. Once a young animal has reached the age and size that would allow it to live safely in the wild on its own, a "wildlife release" is scheduled.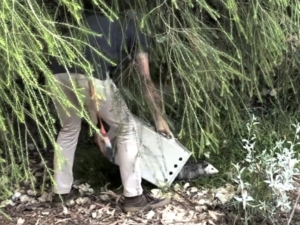 Eduardo Ochoa, one of the Wildlife Technicians, explained during a recent opossum release, "It is definitely one of the most rewarding parts of our duties. We have these baby opossums who we've been caring for, weighing, feeding and making sure they stay healthy. They're now finally big enough to live on their own, and we get to send them on their way."
The technicians give a lot of thought and planning to where the animals are released. "We don't want them too close to busy streets, too close to the foothills because of predators or areas that we've seen a lot of potential competition," adds Ochoa. Young squirrels are often released in small parks with plentiful trees. Opossums require areas to hide, although they are by nature quite nomadic and won't stay at their release point for very long.
Wildlife releases happen throughout the Pasadena Humane service area. Our Wildlife Team is also available to give presentations, to answer questions, or to give advice on how to peacefully coexist with our wild neighbors!
https://pasadenahumane.org/wp-content/uploads/2023/10/Eduardo-Opo-Release.jpeg
687
916
Pasadena Humane
https://pasadenahumane.org/wp-content/uploads/2023/07/PHLOGO202-Charcoal.png
Pasadena Humane
2023-10-17 09:01:09
2023-10-18 15:31:28
Rehabilitated Wildlife- Letting Them Go