Helping Animals in the Community: Sugar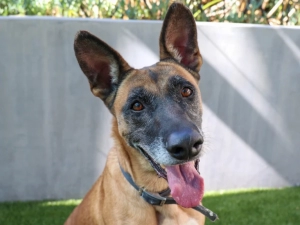 One morning, our Animal Control dispatch received a call about a German Shepherd mix who was wandering around a neighborhood in South Pasadena. One of our Animal Control Officers responded to the call, but the dog had slipped away. Throughout the day, we received several calls from concerned people about her whereabouts, but each time an officer arrived, the dog disappeared again. Our concerns grew as this elusive dog seemed to be terrified. She reportedly would run away from people, sometimes into traffic. But we didn't give up. After a full day of searching and following up on tips, a call came in that the dog had finally settled down in someone's front yard. This time, the homeowner was able to contain her and an Animal Control Officer quicky picked her up.  
Thanks to a concerted, community-wide effort, the dog, whose name is Sugar, was safe at Pasadena Humane. She was exhausted and had some minor abrasions on her paws from the day spent running. She was obviously a little scared and confused, but, as her name suggests, she turned out to be incredibly sweet.  
Sugar became quite a celebrity with us- she attended a City Council meeting as the Pet of the Month, she visited a number of events with the Wiggle Waggle Wagon and ultimately found a loving forever home. This may not have been possible were it not for the many people who helped us catch this lost girl. They were truly the eyes and ears that allowed us to finally bring her to safety.  
Sugar's story is just one of many that we see every day. We are lucky to have such an engaged and animal-loving community, and I look forward to sharing more stories like Sugar's!  
https://pasadenahumane.org/wp-content/uploads/2023/07/PHLOGO202-Charcoal.png
89
300
Kevin McManus
https://pasadenahumane.org/wp-content/uploads/2023/07/PHLOGO202-Charcoal.png
Kevin McManus
2023-05-31 10:43:10
2023-06-07 15:14:24
Helping Animals in the Community: Sugar