5 Pet Safety Tips for New Year's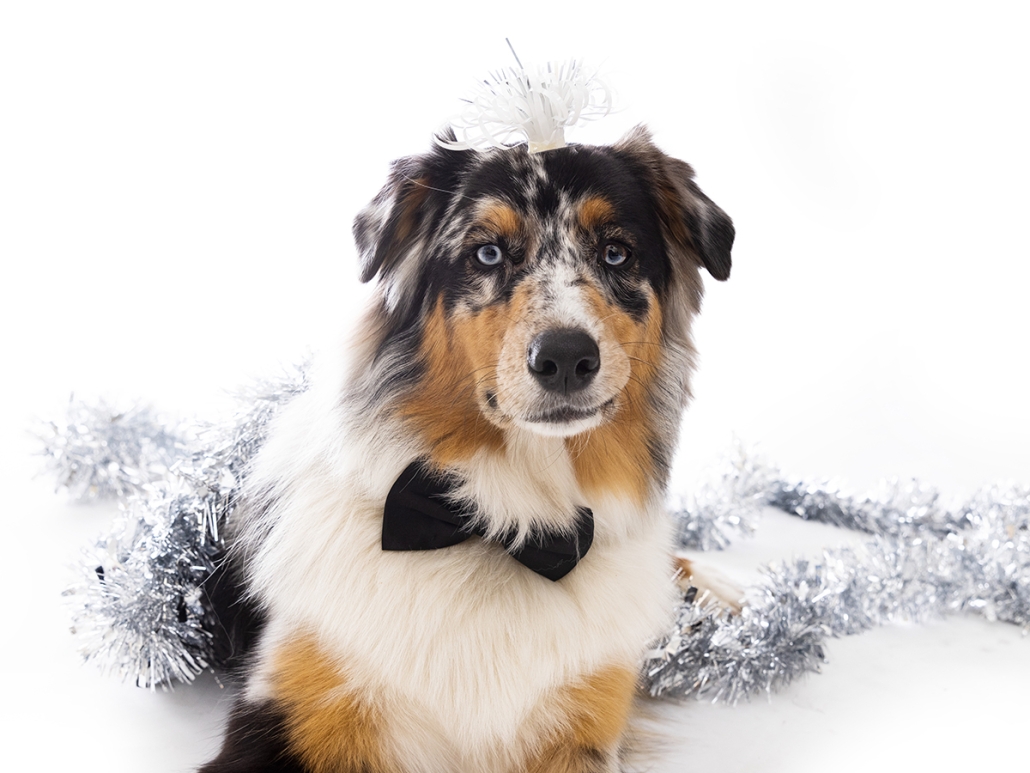 Are you spending a quiet New Year's Eve at home or throwing a black tie shindig with friends? These tips will help you and your furry friends ring in the new year safely, no matter how you celebrate. 
Plan ahead
Since most New Year's Eve-related noise and fireworks will happen after dark and as it gets closer to midnight, plan to walk your dog earlier in the evening or when it's still light out. Even a dog who's usually relaxed on walks can become extremely fearful around loud noises or strangers and potentially pull the leash out of your hand. 
Set up a sanctuary space
Whether you're having guests over or just have neighbors who love celebrating holidays with fireworks, New Year's Eve can be a loud and scary night. Choose a room farthest from noise or visitors to create a closed-off sanctuary room for your pet. Provide them with their favorite toys and blankets to comfort them, treat puzzles to keep them busy, and consider playing relaxing music if it helps. Make sure doors and windows in the sanctuary room are securely latched so they can't escape if they get spooked. If you're having guests over, make sure they know not to enter the sanctuary space. 
Food and drinks
If you're putting out snacks for your New Year's Eve celebration, be aware of ingredients that are toxic to pets (such as onions, garlic, and chocolate) or could cause digestive upset (cheese, fatty meats) and keep them out of reach. Alcohol is also toxic to pets, so don't leave your champagne glasses unattended. 
Parades are for people, not pets
If you're planning on attending the Rose Parade, it's best to leave your dog at home. The noise and crowds can be overwhelming and not enjoyable for most pups. 
Microchip your pet
Pets that are microchipped have a much better chance of being reunited with their owners. Double check that your pet's microchip is up to date with your current contact information, so if they do get lost, you can be reunited with them more quickly.  
Most pets are found very close to where they live, so if you find a lost pet, you can help by trying to  reunite them with their owner. If your pet goes missing or you find a lost animal, post on your local Nextdoor or neighborhood Facebook group. Create a Pawboost alert and register your pet on Petco Love Lost. We also recommend you check the lost pets listing on your local shelter's website. 
Pasadena Humane will be closing at 3 p.m. on December 31 and closed on January 1 and January 2. If you need help with a lost or found pet, please call 626.792.7151 ext. 997 or email hello@pasadenahumane.org. For after-hours assistance, call 626.792.7151 ext. 970. 
From all of us at Pasadena Humane, have a happy and safe New Year! 
https://pasadenahumane.org/wp-content/uploads/2022/12/newyearsdog.jpg
900
1200
Pasadena Humane
https://pasadenahumane.org/wp-content/uploads/2023/07/PHLOGO202-Charcoal.png
Pasadena Humane
2022-12-21 13:44:55
2022-12-21 13:44:55
5 Pet Safety Tips for New Year's