You Can't Judge a Dog by His Bark
By Jacqui Dziak
As potential adopters peruse the kennels looking for their forever friend, they are sometimes put off by a dog that is barking excessively or one cowering in the corner.  Many of PHS residents do not put their best paw forward at the shelter.  There is a lot of stimulation going on around them, and many are understandably frightened.   Because of this, many of the PHS residents are often overlooked and remain in the shelter for an extended period of time. This is one reason why foster care is important for many animals.  Just know that what you see in the shelter isn't necessarily the behavior you would see at home.  Dogs, cats and rabbits will act differently in homes, showing foster families and potential adopters their real personalities.
When PHS asked if I would foster a bunny that bites, I said yes without hesitation.  I have to admit.  I have a soft spot for naughty bunnies.  You see, I know that bunnies are not born aggressive.  Bunnies that bite are usually frightened or "cage protective". Their tiny teeth are the only way they have to defend themselves.  I was excited to bring the gorgeous Dutch rabbit home and learn more about what frightened him- and find ways to make him feel safe and secure.  It wasn't long before I fell in love.  This "aggressive" bunny was super smart and learned to play catch with his plastic stacking cups.  He was energetic and needed a lot of room to explore.  Sam (the name I gave him) was soon doing binkies and bunny flops with gratitude.  His defensive nature began to melt away.  I could tell that Sam also had love to give by the way he groomed his stuffed bunny.  Sam was my foster until I officially adopted him.  We celebrated with a bowl of fresh greens and bunny treats.  Whenever I walk into the room where Sam hangs out, he stands to greet me then lays his head down to be pet.  He is an amazing rabbit.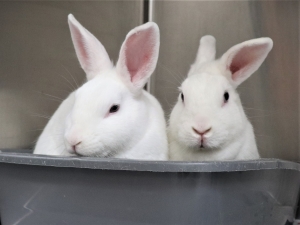 The Pasadena Humane Society is implementing a Foster-to-Adopt program. The Foster-to-Adopt program gives potential adopters the chance to "date" the pet. Not only will foster parents get to take Fido for a ride in the car, they also get to "test drive" Fido to make sure he is a perfect match. Animals in Foster-to-Adopt scenarios will be long-term residents of PHS, meaning they have been in our care for 60 days or more.
Snowball and Snowflake (A470971 and A470968), two gorgeous white bonded rabbits, have been living at PHS since January. They are shy and prefer each other's company to a hooman, which is perhaps why they are sadly overlooked. They are two of the sweetest buns, and excellent candidates for the Foster-to-Adopt program. Outside the kennel, Snowball and Snowflake are much more animated. No doubt someone would adore taking these two buns home and witnessing them groom each other and snuggle. It's a love like no other, and much more fun to watch than television.
Kali Singh (A471438) also came to the shelter in January because, sadly, her owner passed away. Kali is a 4-year old cat who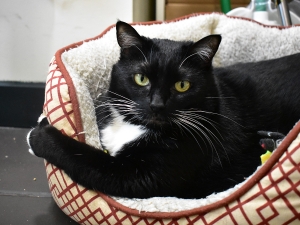 understandably has experienced a difficult transition from living in a home to living at the shelter. She is shy and requires an adopter who is patient and can offer her a quiet environment. Kali does have experience around young children but has always been an only cat. She is not necessarily a diva, but is accustomed to being an only "child".
Potential adopters who foster a long-term resident must decide to (or not to) adopt within 30 days. So, if you are unsure if you will bond with the shy pup hiding in the back of her kennel, you can bring her home and see how well suited you are together. She may reward you with licks of affection. And the best news is that adoption fees are waived for these animals. An animal finds her forever home (check), you found your perfect companion (check) and the adoption fee is waived- win, win, win.
In addition to giving the less adorable the opportunity to flourish in a setting outside the shelter, the program also aims to get other animals to an adoptable status, including underaged kittens, under socialized dogs and cats, and those with behavioral or medical needs. So, if you also have a thing for naughty bunnies, or shy dogs, or frightened kittens, the foster-to-adopt program may be the perfect opportunity to see if you too have a soft spot for the furry friends that don't, for whatever reason, put their best paw forward.
https://pasadenahumane.org/wp-content/uploads/2019/10/A470971-and-A470968_a-scaled.jpg
1919
2560
Jack Hagerman
https://pasadenahumane.org/wp-content/uploads/2020/05/PasadenaHumaneLogo.2020.Charcoal.HorizontalStack-01-300x89.png
Jack Hagerman
2019-10-17 10:13:33
2020-07-29 14:37:42
You Can't Judge a Dog by His Bark